ASTYANAX (NES)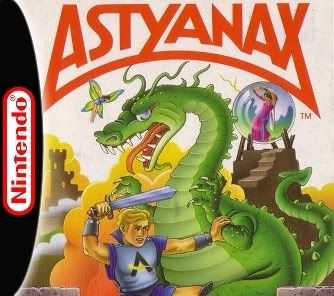 17 tracks, 17:37. Samples-
Astyanax. This is one of those games I could never really get into because I thought the controls were awkward. I couldn't help but feel that the character's sprite was "too big", and as a result dodging all the crap that came flying at you was hard to deal with appropriately.
My ineptitude at not sucking at this game aside, I've always appreciated the aesthetic of it. Generic fantasy plot? Skeletons with swords? Catchy music? Check.
Included in the mp3 tags are the corresponding track numbers from the sound test.
Composed by Kiyoshi Yokoyama in 1989.
SILVER SURFER (NES)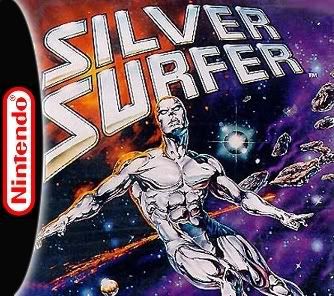 9 tracks, 14:17. Samples-
Released in 1990 for the NES, Silver Surfer is a game recognized for being an unfairly difficult shoot-'em-up. Past the arguable mediocrity of the gameplay, however, lies a well praised soundtrack by those who've become familiar with it.
The soundtrack was composed by the legendary Follin brothers, Tim & Geoff Follin. They managed to forge a distinct style by really milking the audio chip and making music that sounds considerably "thick" in comparison to a lot of other games.
Compositionally, a lot of their classic work is very pleasing to shred-heads and prog nerds who're into game music. BGM theme I in perticular, seems to come up fairly often in the reoccuring internet discussion- "Nintendo music that'd be insane to play on guitar".
Last January I posted the Treasure Master soundtrack, which was also composed by Tim Follin.
Wikipedia entry on the Silver Surfer.
SUPERFROG (Amiga)
10 tracks, 27:40. Samples-
Released in 1993 for the Amiga computer, Superfrog is a jump-and-run platformer in which you control a prince-turned-amphibian to rescue a princess from an evil witch.
What can I say about this game? It's awesome. I always thought it had a nice charm to it, and I've never understood why it wasn't ported to a console like the Super Nintendo to recieve a larger fan base.
It's fairly simple and stripped down for a platformer, but as one review on it's Lemon Amiga page states- "Superfrog is one of those rare games that is greater than the sum of its parts." Hey, my sentiments exactly! I think this title warranted a franchise, even.
The soundtrack holds a special place in my heart, probably because of all the hours I spent trying to beat this game. It has a cartoonish and whimsical charm which matches the game very well.
I worked up a collection of Superfrog chiptune arrangements I had been working on and off since early 2006. It's called "Amphibious Adventures - A Superfrog Tribute" and can be downloaded here. It's an 18 minute collection of covers and medleys either sequenced with NES samples or in an actual emulated NES format (nsf).
Superfrog was composed by Allister Brimble.
SUPER MARIO LAND (GameBoy)
18 tracks, 10:48. Samples-
This game is a classic!
Although despite being the game that everyone played when the GameBoy was in its golden years, the Super Mario Land series is often forgot about while the classic NES and SNES games are referenced frequently to this day. Super Mario Land is sort of cemented as this weird tangent to the series that doesn't come quickly to mind when you think of "Mario".
Remember facing two exists at the end of the stage and cursing yourself for screwing up a series of jumps and not making the higher one? Remember the main foe being… an alien instead of King Koopa? That was pretty cool!
The soundtrack is composed by Hirokazu 'Hip' Tanaka, who is known for composing many classic Nintendo soundtracks, including the original Metroid.
I should mention, I didn't rip this selection myself. I found it linked on "the JLR", a very cool blog with a section called "The Living Tribunal Presents: Five Game Soundtracks You Don't Listen To Enough". You can read his write-up on Super Mario Land there. I should also mention, we had a short conversation through e-mail and I picked Astyanax for this week since he was unable to find it in mp3. I'm not sure if he plans on including it for part 5 of his series, I guess that depends on it being as good as he remembers it…
I retagged the soundtrack to fit my tagging scheme, although I left the url and original ripper's handle in there.
Wikipedia entry on Super Mario Land.
5 years ago